December 2022 calendar
December 2022
No.
Su
Mo
Tu
We
Th
Fr
Sa
49
1
2
3
50
4
5
6
7
8
9
10
51
11
12
13
14
15
16
17
52
18
19
20
21
22
23
24
53
25
26
27
28
29
30
31
Here is the calendar of December 2022. It indicates the bank holidays as well as the us week number. December 2022 has 31 days. It starts on a Thursday and ends on a Saturday.
The month of December 2022 has one public public holiday: December 26*, 2022 (Christmas Day). It begins in week 49, ends in week 53 and counts 4 weekends.
Print one of our monthly calendars for December 2022 now.
Free printable December 2022 calendar
(pdf or jpg)
Blank December 2022 calendar to download freely in pdf or jpg. 2 templates are available for printing: blue and purple. A4 landscape format (1 page).
December 2022 calendar, blue template
December 2022 calendar, purple template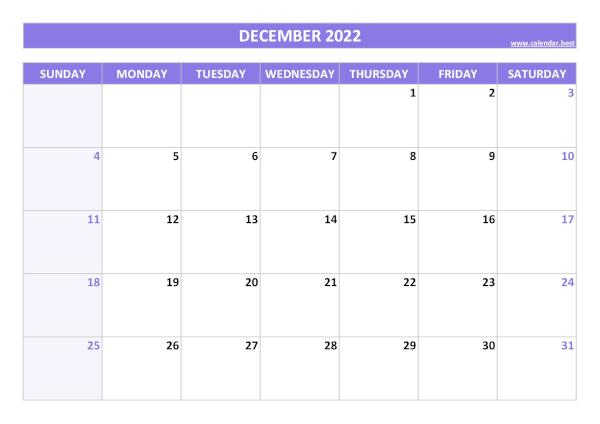 Page updated November 28, 2023